OK guys after much faffing about I managed to get the Caravan BBS rom working on my PSP Gen.
Here's a picture of my PSP Phat running it past the first security check (After the auto-save warning screen):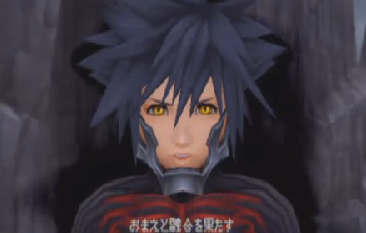 (OK, so it's taken a few hours of gameplay after the autosave warning screen)
ZOMG VANITAS IS ANOTHER EFFING SORA CLONE!!
But anyway everyone's a Sora clone, turns out that's what's block the modded PSP's from running the ISO.
But if you're aware that
Terra actually turns out to be Xenonhort
after Master Xenonort (The old man lol) totally rapes him and combines their beings (HOT) and they have amnesia and all that jazz (such a well-written game...*sniff*)
Also
Ven's totally unconcious in the Room of Awakening,
which is why you won't be able to boot a CSO version.
Also
Aqua kinda sacrifices herself
to try and save Terra (but lolfails) and
gets stuck in the Realm of Darkness for 10 years
, and often likes to
chat with DiZ
before he was DiZ about stuff relating to Reconnect: Kingdom Hearts (The potential KH3?) Yep there's your problem.
Incidently
KH3 will see Sora go off to save the trio from BBS
while
Kairi stays home and waits to be kidnapped. Again.
(The bottle message from the end of KH2 is her ransom note, she has to keep it on her at all times.)
Lo! Lets us eagerly await the return of Org XIII, as the terrible bull plot loopholes allow them to be brought back from the dead to avoid trying to design new characters!
Also:
Ven's goldfish.
This is not a drill.
But yeah try those steps and enjoy playing Birth By Bull on YOUR PSP today! ^-^
(By the way sorry about some of the potential minor spoilers in this post, I'm fairly new here as you can see, how I tag for spoilers?)